<< return to homepage
SERVICES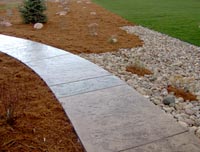 Stamped concrete walkway
Stamped Concrete
Stamped concrete, commonly referred to as patterned concrete, is concrete that is designed to resemble brick, slate, flagstone, stone, tile- and even wood.
Colors and patterns for stamped concrete are often chosen to blend with other stone, tile or patterned concrete elements at the residence. Complex designs incorporating steps, courtyards, and fountains can be achieved. Stamped concrete can also be blended with other decorative concrete elements such as exposed aggregate finishes and acid-etch staining, along with a particular pattern, such as running bond brick, hexagonal tile, worn rock or stone. Concrete provides the perfect canvas for creating an economical replica of more expensive materials, and yet still maintaining a very natural, authentic look.
Overlayment
Concrete overlayments are stronger and more supple than any concrete slab and much thinner. All cracks are filled and can be covered leaving the concrete surface seamless.
Overlayments can be simple, such as smooth troweled surfaces resembling a garage floor or a stamp patio. Overlayments can be applied to patios, interior floors (wood or concrete), pool decks, decks, walkways and driveways. Basic overlayment applications are applied to level out existing wood or concrete floors in order to install hardwood floors, carpet, linoleum and tile.
Acid Stain
Acid Stain gives concrete a mottled, variegated, marble like look. It creates stunning colors on concrete, mostly earth tone browns, reddish browns and greens. You can also create your own shades by mixing and matching your available colors, or applying them at different rates. Acid Stain can be applied to walks, entrances, driveways, living rooms, bathrooms, patios, high traffic areas and even vertically to any cement surface.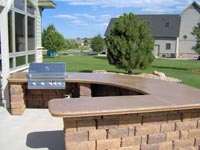 Outdoor concrete countertop
Concrete Countertops
Most concrete countertops are precast in molds built to the customer's specifications so they can be formed, cured and finished under controlled conditions. The countertops can be customized to match another kitchen design element, such as a tile, a swatch of fabric or a favorite piece of china. The countertops can have sparkle added using with aggregates or glass chips - even fiber-optic lighting or even incorporate personal mementos, such as bits of broken dishware and bottle fragments excavated from the backyard of an old home. Sinks, drain boards, soap dishes and trivets are all easily integrated into concrete countertops and can also be cast from concrete.
Flatwork
...more info is on it's way.
Curbs and Gutters
...more info is on it's way.